Jambukeswarar: Pancha Bhoota Sthalam for Water
South India is adorned with a plethora of centuries-old temples and various architectural marvels. Each is associated with a significant belief which adds to their unique history.

Such are the Pancha Bhoota Sthalam—the five significant temples located in the South Indian states of Tamil Nadu and Andhra Pradesh. Held in reverence for centuries, the presiding deity here is Lord Shiva. Lord Shiva—the supreme god of Hindus, is worshipped all over India with the same devotion. He is often worshipped in the form of Lingam.

The Indian tradition recognizes that five basic elements—Earth, Water, Fire, Air, and Sky, are required to form the universe, including our bodies. Therefore the five temples of Pancha Bhoota Sthalam signify the same. Each dedicated to Lord Shiva represents the manifestation of five different elements of nature.

The five temples are—Thiruvanaikaval Jambukeshwara (water), Kanchipuram Ekambareswarar (earth), Chidambaram Nataraja (sky), Thiruvannamalai Arunachaleshwarar (fire) and Kalahasti Nathar (air).

In Jambukeswarar temple, Thiruvanaikaval, Tamil Nadu, Lord Shiva is said to have manifested Himself as water (Neer) element. The presiding deities here are Lord Jambukeshwarar (Lord Shiva) with His consort Goddess Akilandeswari (Goddess Parvati).

The major part of the Lingam in this temple is submerged underwater, and hence it is called "Appu Lingam" or Lingam of water. Subsequently, this temple is also venerated as 'Appu Sthalam.' This Lingam of Lord Shiva is said to be "Swayambhu", meaning 'self-manifested'.

As Lord Siva is believed to be seated below Jambu tree in this pilgrimage, the temple got its name Jambukeswaram. It is also called `Upadesha sthala` as the shrines of Lord Shiva, and Goddess Parvati are seen facing each other following a legend. As an elephant was blessed after worshipping at this hallowed place, this temple came to be known as 'Thiruvanaikka'.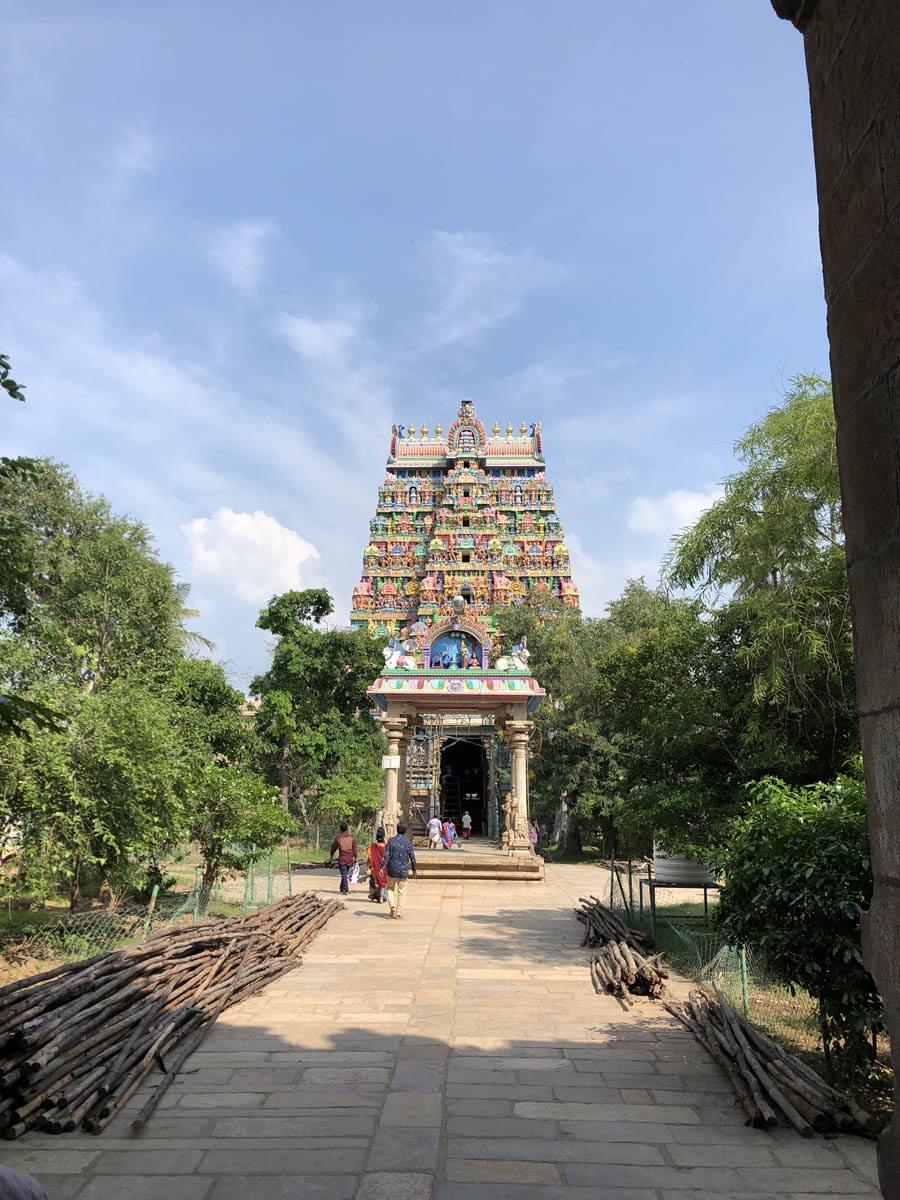 Legends of Jambukeswarar temple
Story has it that once the Goddess Parvati, to redeem humankind, mocked Lord Shiva during his deep meditation. As a punishment, Lord Shiva commanded her to go to earth for penance. So Goddess Parvati, in the form of Akilandeswari, descended to earth and found Jambu forest (Thiruvanaikoil) to conduct her penance. She moulded a Lingam out of the water from the Cauvery River under the Venn Naaval tree (on top of the Sage Jambu) and commenced her 'Puja'. The Lingam is thus known as Appu Lingam (Water Lingam). Lord Shiva finally appeared before Goddess Parvati (facing east) and taught her "Upadesa", Himself facing west.
As per a second story, there were two disciples of Lord Shiva who lived in Kailash: 'Malyavan' and 'Pushpadanta'. They always fought with each other. During one conflict, Malyavan cursed Pushpadanta to become an elephant and Pushpadanta cursed Malyavan to become a spider on earth. The elephant and the spider then came to Jambukeswaram temple and worshipped Lord Shiva. The elephant would daily conduct ablution to Lingam with Cauvery's water. The spider would spin its web daily over the Shivalingam to protect it from dust and sunlight. The elephant, however, mistook the cobweb as dust and poured water on it. This continued daily. The spider finally got frustrated, crawled up the elephant's trunk and bit it, killing elephant and itself to death. Lord Shiva pleased by their devotion relieved them from the curse.

Having committed the sin of killing the elephant, in the next birth the spider was born as King Kochengot Chola (the red-eyed king), who built 70 temples, including the Jambukeswarar temple.
The story behind the name "Jambukeswarar" goes as follows: There was a sage by name "Jambu Munivar". He once offered a sacred 'Venn Naaval' fruit to Lord Shiva, who ate it and spitted the seed.

Jambu Munivar swallowed the same seed as it became holy after coming out of the Lord's mouth. Soon a "Naaval" tree began growing on Saint's head. He then prayed to Lord Shiva to take abode under that tree, to which Lord Shiva agreed.

After many years, Goddess Akilandeswari did penance and worshipped Lord Shiva under the same tree. Thus He appeared before Her and took abode under the Jambu Tree, He was called "Jambukeswar".

The tree became "Sthala Vrikhsham" (Temple's sacred tree), and is still present in the temple, being hundreds of years old. The Shivalinga is place under the Jambu Tree in this temple.
Mystic significance of the temple
The sanctum sanctorum of Jambukeswaram temple has a perennial underground water stream which flows around the Lingam. Even after pumping the water out, it is always filled with water. Nobody knows the water's source till today.

It is believed that Goddess Parvati herself got inception into cosmic truths from Lord Shiva in this holy place, like a student from a respected Guru. Thus, this temple is highly significant as Goddess Akhilandeshwari and Lord Shiva are depicted as student and guru respectively. Unlike other Lord Shiva temples where their divine marriage is of utmost significance, Jambukeswaram temple does not follow that ritual.

Devotees who worship here are blessed both in this birth and next birth. It is said that Goddess Akilandeswari bestows devotees with intelligence and good education. Their wishes of marriage and child are fulfilled.

Attavasukkal, Uma Deviyar, Suryan, Thirumal, Gowthamar, Brahman, Attathikku Balakhar, Jambu Munivar, Chandran, Aghasthiyar, the spider Gananatharul maliyavan, and the elephant Pushbadhanthan had attained glory by worshipping at this temple.
As per one account, Jambukeswarar temple was built by Chola King Kotchengannan around 600 BC. There are lots of inscriptions from various Chola Kings between 11-12th century, which serve as source of information regarding renovations and grants to the temple.

King Kochengot Chola, the cursed spider in previous birth, remembering his enmity with the elephant, deliberately built the temple entrance very small to prevent even a baby elephant from entering it. So the entrance of the Jambureshwar temple is only 4 foot high and 2.5 foot wide.

The sanctified place was then widely expanded by Someswara, Hoysala King. The 7-tiered Rajgopurams in the temple are also said to be built by him. During the 19th and the early 20th centuries, the temple has been widely maintained by Nattukkottai Chettiars.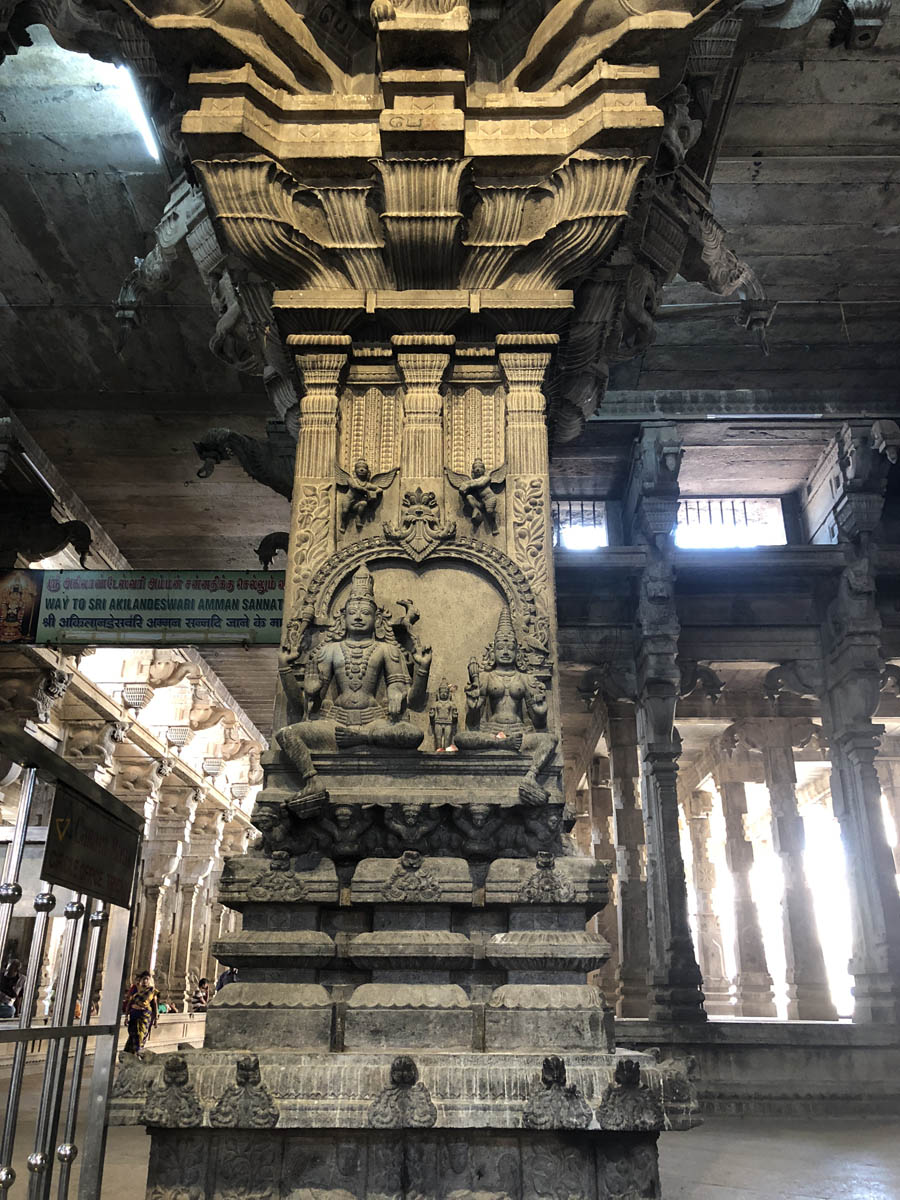 Saints and literary works associated with the temple
The "Appa Lingam" at Jambukeswarar temple was worshipped by Lord Ramchandra Himself, which established the greatness of this temple.

The four revered Tamil poets called Nayanars (Saivite Saints) have also sung in glory of Lord Jambunatham.

The literary works of Sundarar, Appar, Thayumanavar, Arunagirinathar, Thirugnana Sambanthar, and Iyyadigal kadawarkon have reference to the glory of Lord Jambukeswarar. Goddess Akilandeswari had blessed poet Kalamega Pulavar—the poet of Satire, at this temple.
Architecture of Jambukeswarar temple
An architectural spectacle, endowed with high roofs and five Prakaramas (corridors), the Jambukeswarar temple is one of the oldest shrines that stands as epitome Dravidian-style architecture, built by the Chola Kings. It spreads across a vast area of 18 acres.

Its sanctum sanctorum sits slightly below the ground level, surrounded by a stone window with nine holes. Devotees worship the Lingam through these holes. The nine holes correspond to nine outlets of the human body, which need to be controlled while worshipping.
After 1701, Aurangzeb order the destruction of the temple yet again and converted it into a mosque.
As Lord Shiva had himself built the 5th Prakaram by taking the form of a spider, it is known as 'Thiruneettan thirumathil'. It is here that Lord Shiva blessed the elephant and the spider to attain moksha. The massive outer wall surrounding the 5th Prakarma is famous as the "Vibudi Prakara". With a height of over 25 feet, it stretches over a mile and is two feet thick. Legend has that Lord Shiva built the wall with local labourers.

The Akilandeswari shrine is located in the 4th Prakaram. It contains 796 pillars placed in a large hall.

The ornate mandapam—situated at the entrance of Aariyavittan tower in 3rd Prakaram, is lined with an array of monolithic stone pillars (made from single stone). Stone chains and the 12 zodiac signs are skillfully engraved on these pillars. Found in "1000 pillar hall" of Jambukeswarar temple, and in various other parts as well, these pillars contain artistic sculptural works.

This temple houses "Coratham" (a temple car used for procession), and several other wooden "Vahanas" (vehicles). Almost 156 inscriptions of various dynasties like Cholas, Hoysalas, Pandyas, Vijayanagara Kings, and Madurai Nayakkars have been found in this temple.
Unique/ interesting facts about the temple
Although everyone is astounded by the glory of the Jambukeswarar temple, there are some interesting and less known facts which make it more venerated.
Jambukeswarar Temple is a highly revered temple where Lord Shiva, along with his consort is worshipped. Every year devotees gather here in large numbers to watch the Lord Jambunatha and Goddess Akilandeswari, and invoke their blessings. The several interesting beliefs behind this holy place add to its significance. The architecture further adds to its grandeur. Temples like these add to the beauty and culture of South Indian. The best time to visit Lord Shiva's temples is during the Phalgun month, which falls roughly between March-April.