Vaidyanath Dham, also known as Babadham, is one of the 12 Mahajyotirlinga shrines of Lord Shiva where he self-manifested in India. The ancient temple complex of Vaidyanath houses 22 beautiful temples along with the main Jyotirlinga temple.

History Behind the Vaidyanath Temple
Vaidyanath finds mention in many Hindu texts like Shivapurana, Matsyapurana, and Ramayana along with contemporary history books. Set in a spectacular location near the Mayurkashi River, the temple is cherished by religious travelers.
A beautiful Shaktipeeth shrine of Goddess Parvati is located next to the main temple. Vaidyanath is a testament to the sacred bond of Shiva and Shakti, which is believed to be the foundation of the world. Millions of pilgrims flock to Vaidyanath for blessings in the auspicious month of Shravan.
There are many stories about the origin of Vaidyanath that are prevalent in the town of Deoghar. The most popular story goes that in the Treta Yuga, Lanka King Ravana offered constant prayers to Lord Shiva. Ravana wanted to persuade Mahadev to stay in Lanka for the safety of the city. Pleased by his devotion, Shiva allowed him to take his 'Atmalingam' to Sri Lanka.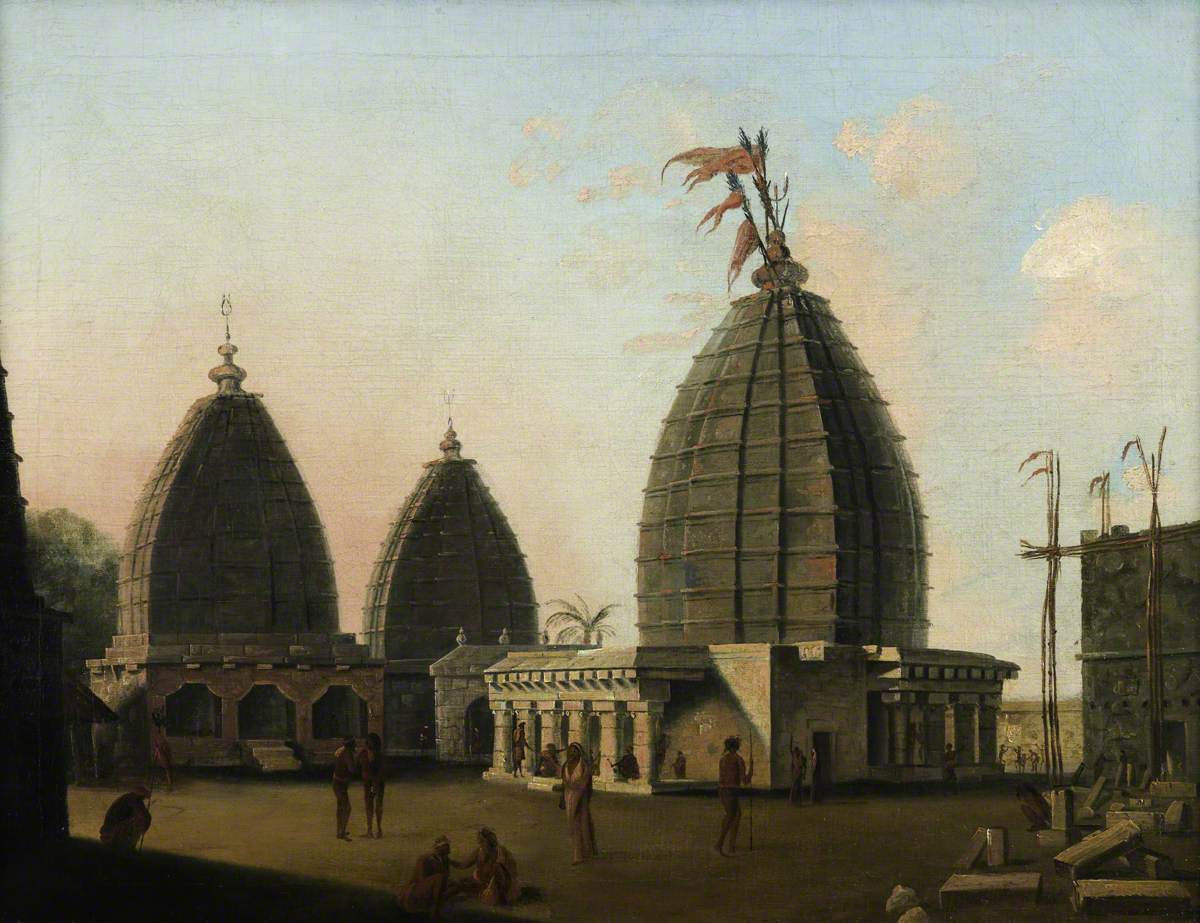 But the Lord put forth a condition that the lingam should not break or be transferred to another person on the journey. The Gods feared that Ravana would stir havoc in the world under the safety of Lord Shiva. The water God Varun entered Ravana's belly, and he felt a strong urge to release water, so he handed the Shiv Linga to a Brahmin (who was Lord Ganesha's Avatar).
The Brahmin placed the Lingam in Deoghar and thus it got affixed in this place. Angered by this, Ravana resorted to violence and damaged the lingam while trying to lift it. He felt severe guilt and started offering his 10 heads to Lord Shiva one by one. Pleased by his penance, Lord Shiva appeared and cured all his injuries. Thus, he got the name "Vaidya" (Doctor), and this place came to be known as Vaidyanath.
Goddess Sati sacrificed her life to rebel against her father's objection to her marriage with Shiva. In order to honor her death, Lord Vishnu divided her body into 52 parts which fell on different places on earth and turned into shrines. These places are called Shaktipeethas, and Vaidyanath Shaktipeeth is where Sati's heart fell on earth.
Vaidyanath is one of the 12 MahaJyotirlingas of Lord Shiva where he appeared as a fiery column of light. The temple holds immense importance in the hearts of Shiv Bhakts and draws hordes of devotees every year. One unique feature of Vaidyanath is that it is worshipped as a Jyotirlingam as well as a Shaktipeetham (shrines of Shiva's wife, Goddess Shakti).

According to Shiva Purana, the holy temple signifies the divine unity of Shiva and Shakti; thus, it is considered very auspicious for Hindu marriages. It is believed that when a couple gets married at the temple or visits it for Darshan, their souls are tied together for eternity. Therefore, thousands of Hindu couples from around the world come to Vaidyanath for blessings.

The temple also finds mention in Matsyapurana as "Arogya Vaidyanathitee", the place where Shakti assists Lord Shiva in healing devotees from all human maladies. Shiva devotees believe that whoever visits the temple gets rid of all material adversities. Devotees can attain Moksha (salvation) by worshipping this revered shrine.
Architectural Significance
The beautiful temple at Deoghar has a spacious courtyard which is bound by colossal white stone walls. Vaidyanath complex houses about 22 other temples dedicated to different deities. According to religious beliefs, the architect of Gods, Vishwakarma, built this beautiful temple. The temple has three parts: the main building, the middle part, and the entrance.
The 72-feet high beautiful temple shikhara gives it the appearance of white-petalled lotus. The top has three gold vessels placed in an ascending order that Raja Puran Singh, King of Gidhaur, donated to the temple. Besides these vessels, there is a lotus jewel, having eight petals, which is known as Chandrakanta Mani.
Inside the temple Sanctorum, lies the sacred Jyotirlinga which is about 5 inches in diameter, raised over a 4-inch stone slab. The temple of Goddess Parvati lies adjacent to the main Shiva temple and peaks of both temples are tied with sacred threads. One unique feature of Vaidyanath is that the entire temple was built out of one rock, thus adding to its architectural charm.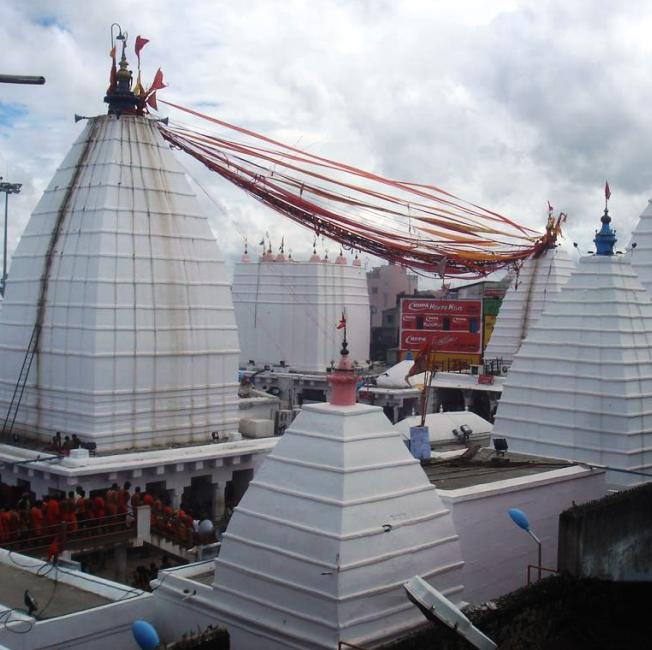 The worship ceremonies in the temple begin every day at 4 AM when the Head priest does "Shodashopchar" (14 different rituals). The temple priests perform Pooja by pouring Kuccha Jal (pure water) on lingam first, followed by offerings of flowers and Bel leaves by pilgrims. The day Pooja continues till 3:30 PM after which the temple is closed and opened again at 6 PM for Shringar Pooja. The devotees also offer the famous Deoghar Peda in offering to Lord Shiva. Babadham (another name of Deoghar) also has an office to accept donations and offerings.
There is a special ritual that takes place in the temple where volunteers climb the Shikhar of Shiva and Parvati temples to tie them with sacred red threads offered by devotees. This is a very auspicious ritual that is symbolic of the unity of Lord Shiva and Goddess Parvati.
The Shravan Mela (fair) in the month of July-August is the most remarkable event celebrated in Deoghar. More than 8 million devotees flock to Vaidyanath to offer holy water of River Ganga collected from Sultanganj.
The GangaJal is stored in two pots tied at the ends of a beautifully decorated bamboo stick called "Kanwar". The devotees carry "Kanwar" on their shoulders and cover a distance of 108 km on foot to reach Vaidyanath.
The Vaidyanath temple has witnessed many miracles over the years that might leave the listeners perplexed. One such miracle lies in its years-long tradition of tying the temples of Lord Shiva and Parvati with red threads. Locals claim that whoever volunteers for this sacred ritual goes on to live longer and healthier lives. For many volunteers, this ritual is like a family tradition that is performed by all generations. Many of these volunteers even go on to live for more than 100 years, and no accident has been recorded during this ritual. There is no logical explanation to this fact, and many are compelled to believe that this is nothing but the blessings of Mahadev.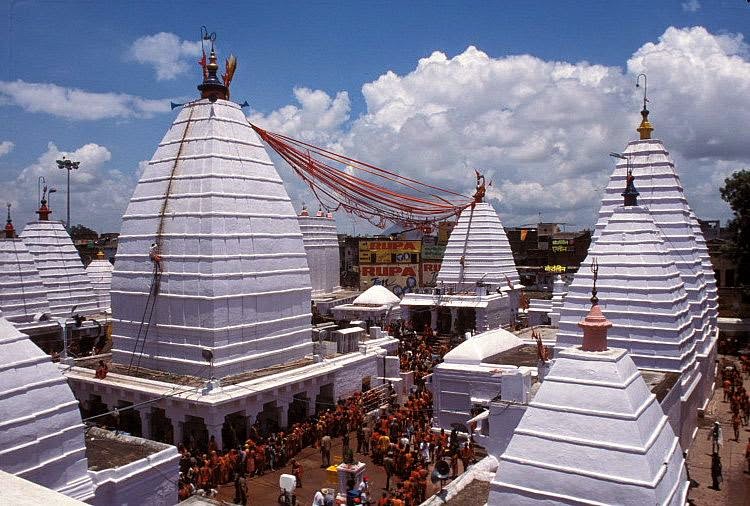 A story goes that once a couple had visited Baidynath to seek Baba's blessings for a happy married life. However, over the years, their relationship deteriorated and reached the point of divorce. But by an inexplicable turn of destiny, the couple claimed to have sought guidance from Lord Shiva and rekindled their relationship. They still visit the temple every year to perform sacred rituals and seek blessings. Vaidyanath is also a source of miraculous healings witnessed by thousands of devotees suffering from incurable diseases.
There are also some remarkable facts about the temple:
1. The top of the "Atmalingam" at Vaidyanath temple is slightly broken. The fact sits perfectly with the legend wherein Ravana tried to uproot the lingam from this place in agitation.
2. There is a "Trishul" (trident) on the Shikhar of all Jyotirlinga temples, but in Vaidyanath there is a "Panchshool". Temple priests believe that this Panchshool is a symbol of destroying five human sins (Lust, Anger, Greed, Fascination, and Jealousy).
3. Vaidyanath is the only religious shrine that houses both a Jyotirlingam and a Shaktipeeth. Thus, it is held in high regard by devotees of Goddess Parvati as well as Lord Shiva.
4. Unlike other sacred Shiva temples like Somnath, devotees are allowed to do the "Jalabhishek" with their own hands in Vaidyanath.
5. The Panchshool is believed to be an element of security of Vaidyanath because of which the temple was never affected by any natural calamity.
The Sacred Darshan of Baba Vaidyanath Jyotirlinga