The place where Sri Kamakshi resides is known as "Nabisthana Ottiyana Peetam." Kamakshi refers to God that lives in Kanchi and Goddess Saraswati, and Lakshmi are her both eyes.

History Behind the Kanchi Kamakshi Temple
Counted among one of the Shakti Peetha's, this is the place where the Navel or Nabhi of Goddess Sati fell when Lord Vishnu's Sudarshana Chakra touched Goddess Sati's body.
The temple is also believed as the center of the earth or eastern hemisphere. There is a belief that after taking birth for killing Asur Bhandasur, Devi sat here taking "Kanya Swarup." The idol is "Swayambhu," which signifies it has appeared and not created. She is believed to have three Swarups in the temple. These include Sthula, Sukshama, and Shunya.
Goddess Kamakshi created the mud idol of Lord Shiva in Kanchi to worship him. To test her worship, Lord Shiva incarnated himself as Kamba River that has high tides. But the Goddess did not let the mud idol erode away in tides. She grasped it closely with her hands.
She also prayed on a needle tip that is surrounded by 5 fires (Panchakagni) to free her from the livelihood interest. Lord Shiva became happy with her worship and married her.
There are various Shiva temples in Kanchi, but "Sri Kamakshi Amman Temple" is the only one with the Goddess Sanctorum. Eight Shakti Goddesses also surround the temple.
There was a standing image of Kamakshi Devi in Gold. This is a pose in which she prayed and is called Bangaru Kamakshi. An attack was expected at the temple, so the image in Gold gets shifted to Thanjavur.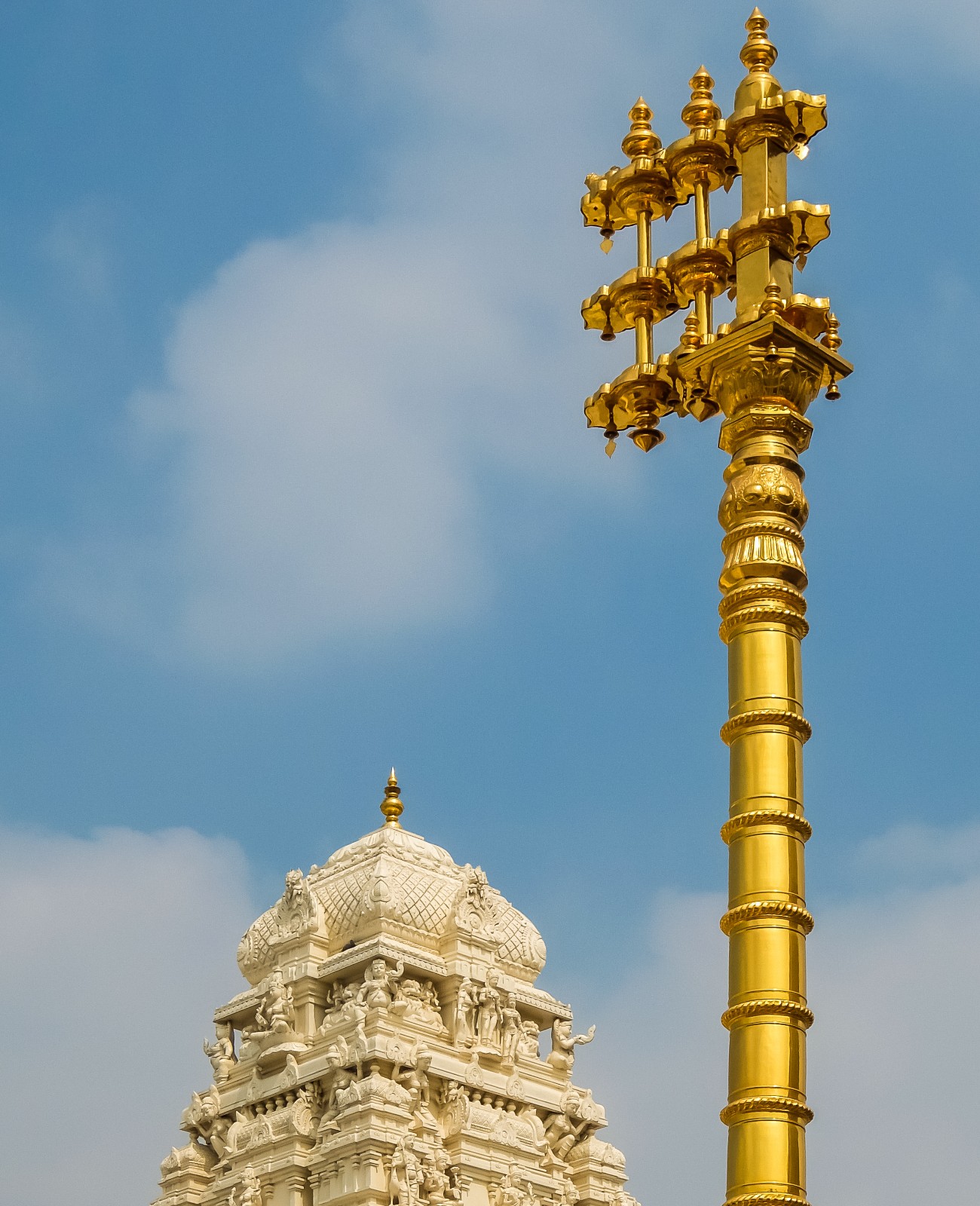 Lord Shiva and Vishnu surround Kamakshi temple situated in the heart of Kanchipuram. On one side, there are various Shiva temples and few Vishnu temples and is referred as big or Shiva Kanchi. The other side of the Kamakshi temple has big Vishnu temples and some Shiva temples too. This side is known as small or Vishnu Kanchi.
Stories Linked with the Kanchi Kamakshi Temple
• Rishi Durvasa overcame his curse after worshipping and praying to Kamakshi. Later, he installed Sri Chakra here and wrote Saubhagya Chintamani Kalpa, also known as Durvasa Samhita. He has written a detailed Vidhi (way) in this about how to worship Kamakshi Devi. Today also the worship is done exactly as it is mentioned in Saubhagya Chintamani Kalpa.
7 Gotras priests called Shastri's can worship here. But, only two priests worship here and the rest five worship at Thanjavur Kamakshi temple.
• The sanctum of the Goddess remained very hot that signifies her Raudra Rup. It was only after Adi Shankara pacified her that she came in her peaceful form. Adi Shankara also wrote "Saundra Lahiri" here.
• Ayodhya's King Dasaratha from Suryavanshi Ikshvaku Vansh is believed of performing "Putra Kameshi Yagam" here for the child's birth. After performing Puja at the "Nabisthanam," the King was blessed with a child within a few months. Devi Kamakshi is also Ikshvashu Clan's Kuldevi. Since then, there became beliefs that childless couples get children after praying here. The story has a reference in Markandeya Purana.
• "Mookan," a dumb devotee visited the temple and begged Goddess for freeing him from dumbness. He wanted to perform poems in the praise of Goddess. She freed him from dumbness and gave him the power to think and create poetry. He also wrote poetry "Mookapanchashati" in 500 verses praising about the Goddess beauty and grace.
Kamakshi Devi is graceful as she blesses childless couples with children, converts dumb to poets, and also provides wealth to her honest devotees. She destroys evil and prospers goodness throughout the entire world.
The main sanctum of Goddess Kamakshi is known as Gayatri Mandapa, where she is sitting in a Padmasana posture that resembles "Lotus." Her Aasan (seat) is Panch Brahmasan. In her four arms, she holds Sugarcane bow and Lotus, and divine chakras Pasa and Angusa.
A Chandraperai (the moon like structure) is there on her forehead, and a parrot is also near her. She is adorned in beautiful and bright Saris always and also has all the Shringara (ornaments). A silver-colored pillar is also present in the sanctum. The pillar has a hole that represents navel, where childless couples pray to be blessed with children.
You can also see Yoni shaped carving in front of Goddess Kamakshi idol. Sri Chakra is there inside it. As per scriptures, Devi sits on the top Bindu, and 8 Vagdevis are there around Sri Chakra. Sri Chakra carved in stone is difficult to see, as it is always covered with fresh pink lotus flowers.
Adi Shankara wrote "Saundrya Lahiri," a famous work on Kamakshi Devi here.
Sanctum's four walls represent four Vedas, and Gayatri Mandap's 24 pillars represent Gayatri Chhand's 24 letters. You can also see Arup Lakshmi and Varahi on the main idols left side. Vishnu and Swarup Lakhsmi are on the right side of the idol. Bilvadwar is the name of the door that leads to the main sanctum.
You can perform Puja inside the sanctum and offer Kumkum to Arup Lakshmi. Also, take some Kumkum as prasad with you.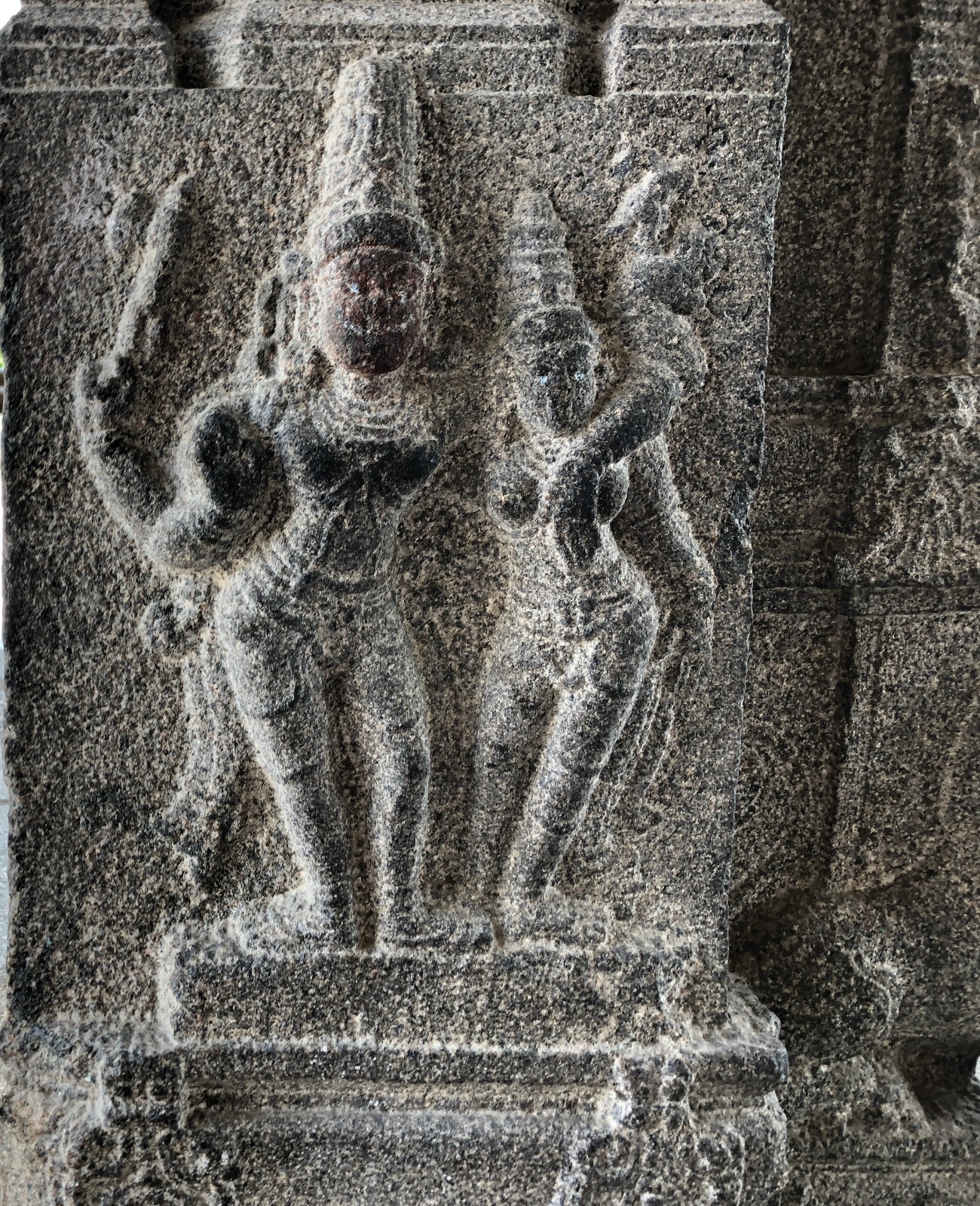 Kamakshi Temple's Festivals
• Shiva and Kamakshi's marriage is celebrated in Phalgun month that falls in February or March. There is a belief that people who are getting married should come and attend this festival.
Goddess Kamakshi is taken on a boat ride on this special day. Rukmani temple in Dwarka also celebrates this day.
• Sharda Navratri and Chaitra are celebrated here in the same way as other Devi Temples of India. Special celebrations take place every full moon day or Purnima.
• Brahmotsava is celebrated in Magh that is in January or February. During this time, the idol is taken every morning and evening out. Kamakshi Devi rides on Golden lion on the 4th day and on the silver chariot on the 9th day. Then on the final or 10th day that is also a full moon, all the devotees and Goddess take a holy dip in the temple tank.
• Kamakshi Amman rides in Gold chariot on Chaitra month's first day.
• Four worships are offered every day.
• Navaratri, Sankara Jayanthi, Aadi, Vasanta Utsavam, and Aippasi Pooram are the other festivals celebrated in this temple.
Architecture of the Temple
Sri Kamakshi Amman Temple is located in an area of approximately 5 acres. The layout of the temple is a complicated one. The Temple tank and various mandapams are located on the outer prakaram. These include 100 pillared hall, dwajaarohana mandapam, etc.
After entering the four-pillared hall, you will then enter inner prakaram, and then after a series of steps, you reach the sanctum.
Visit this beautiful temple and get blessed by the Kamakshi Devi!
The Sacred Darshan of Sri Kamakshi Amman