Dedicated to Devi Bhramaramba, the holy place at Srisailam, Bhramaramba Devi Temple is situated in the Mallikarjuna Swamy Temple vicinity and is where Goddess Sati's neck fell.

History Behind the Bhramarambika Temple
Located on the hills of the Nallamala, Bhramaramba Devi Temple is situated within the Sri Mallikarjuna Swamy Temple complex. The temple which is dedicated to the goddess of bees, Bhramaramba Devi is on the River Krishna banks. Worshiped as Goddess Lakshmi, Bhramaramba Devi is the one who killed demon Arunasara and freed the people from his terror.
Here the Goddess Bhramaramba Devi is worshiped in Brahmani Shakti form. The Goddess idol in the temple has eight arms, and she wears a silk sari. You can also see an idol of Lopamudra, who is the wife of saint Agastya at the temple's garbha griha. Sri Yantra is also there is garbha griha's front.
Kubham and Navratri are the famous festivals celebrated here with full enthusiasm. During your visit to the temple, you will learn about the various legendry stories of Goddess. The beauty of Nallamala hills and River Krishna also mesmerizes you.
As Brahma signifies bee, you can also hear the bee's sound in the main temple's backside.
As per ancient scriptures, once Lord Shiva and Parvati's sons – Ganesha and Kartikeya went into an argument that who among them is greatest and sought their parent's opinion.
There were told to take rounds of the three worlds, and who comes back first will be the best of two. Soon Kartikeya went riding his peacock to take rounds of the three worlds. 
But Ganesha rides his mouse and started making Pradakshina (Circumambulation) of Devi Parvati and Lord Shiva. He said that touring his mother and father is equivalent to taking rounds of three worlds. Lord Shiva and Parvati, pleased with Ganesha's words, declared him the winner.
When Kartikeya returned and learned about the entire thing, he gets angry. Then he left Kailash and resides at Srisailam. Devi Parvati was not able to bear her son's separation and goes behind his son to reside there. Soon Ganesha and Lord Shiva also reached Srisailam. Then Srisailam became the permanent place of stay of their entire family.
Stories Linked with Srisailam
Parvatha Story

Silada Maharshi's son Parvatha pleased Shiva and convinced him to live on his body. He prayed Shiva that sacred water of various theerthas and all Devathas should stay on his top. Pravatha also wished that all Devotees who visit this sacred place get blessed with Moksha.
Lord Shiva fulfilled all the wishes of Parvatha. Later Parvatha turned to "Srisailam," and Lord Shiva lived on this big hill top and known as Sriparvatha Swamy.

Chandravathi Story

Chandravathi is the daughter of Chandraguptha Pattana, ruler. This place is near Srisailam, which is opposite to the river Krishna. Chandravathi ran away from her father because of his wrong doings and went on the hills.
One day she found that one of her cows is shedding milk on the natural rock that resembles Shivalinga. She dreamed that the stone is self-manifested God Sriparvatha Swamy's Linga and started worshipping it.
She started offering Jasmine garlands every day. One day when Lord Shiva appeared before her, she prayed to wear Jasmine garland in his head. Since then, Sriparvatha Swamy is known as Mallikarjuna Swamy.

Vasumathi Story

Rishi's daughter Vasumathi did penance of Brahmadeeva on this hill. When Brahma gets pleased and appeared before her, Vasumathi requested to grant her name as "Sri" and associated it with hill Srisailam. Brahma fulfilled her desire, and then this place became "Sri-sailam."
Vriddha Mallikarjuna Story
There was a princess in devotion wishing to get married to Lord Shiva. She spent her entire time in worshipping Shiva. One night Shiva came in her dream and told her to follow the block bee and where the bee settles, stay there till his arrival.
When she wakes up from her dream, she followed it as per Shiva's instructions and reached Srisailam Mountain. Then the bee finally sat on Jasmine shrub, and the princess waited there till the arrival of Lord Shiva. In the meantime, Chenchus nourished her with forest fruits and honey.
One day Shiva appeared before the princess in a wrinkled face and said that he became old while searching her. Princess married him, and then the couple was invited by the Chenchus for dinner. When they offered Shiva meat and drink, he did not accept it. Princess also tried to insist, but all went in vain.
Later Shiva left the spot, the princess called him many times, but he did not listen. She then cursed him to become the shape of a stone (Linga). Then he turned to Vriddha Mallikarjuna Swamy.

Chenchu Mallayya Story

There is also a story on temples Prakaram wall that Shiva came as a hunter to Srisailam forest and fell in love with the Chenchu girl. He then married her and then settled on a hill. Chenchus consider Mallikarjuna Swamy as Lord Shiva and that girl's relation and refer him as Chechu Mallayya.
The town of Srisailam in Andhra Pradesh's Kurnool district is one of the oldest regions in India. Many religious scriptures have mentioned the name of the famous hill where the temple is situated. These include Skanda Purana, Mahabharatha, and various others.
Surrounded by walls of 6 meters height and various towers, the temple is decorated with beautiful and complex sculpture work. There are 4 main gates in four directions. These are Tripuranthakam facing east, Siddhavatam facing south, Alampur facing west, and Umamaheshwaram facing north.
Tripuranthakam is in Prakasam district with God Tripuranthakeswara Swamy and Tripurasundari Goddess as presiding deities. Siddhavatam on banks of River Penna in Kadapa district has God Jyotisideswara Swamy and Kamakshi Goddess as presiding deities. Alampur in Mehboobnagar district on River Tungabhadra has nine temples built in the period of Chalukya. Umamaheshwaramin, the district of Mehboobnagar, has God Umamaheswara Swamy and Umamaheshwari Devi as main deities.
The center of the main temple has an enclosure that is below the principal gates level. This enclosure consists of Salamandapas, which are at the northern as well as southern sides. There is also a space between the outer Prakaras walls and the inner enclosure. In the olden days, this space was maintained well with the gardens.
From east to west, you can see Nandimandapa, Veerasiromandapa, Mallikarjuna temple, and Bhramaramba temple in the inner courtyard. There are many other temples in the inner courtyard. These include Vriddha Mallikarjuna temple, Sahasra Lingeswara shrine, temple of Uma Maheswara, group of five temples as Pandava Prathista temples and the row of nine temples known as Navabrahma temples.
The temple management beautifully reconstructs the complex temple. It is maintained beautifully and managed best by Jyotirlinga Kshetra. When the temple lit up at night, it looks beautiful.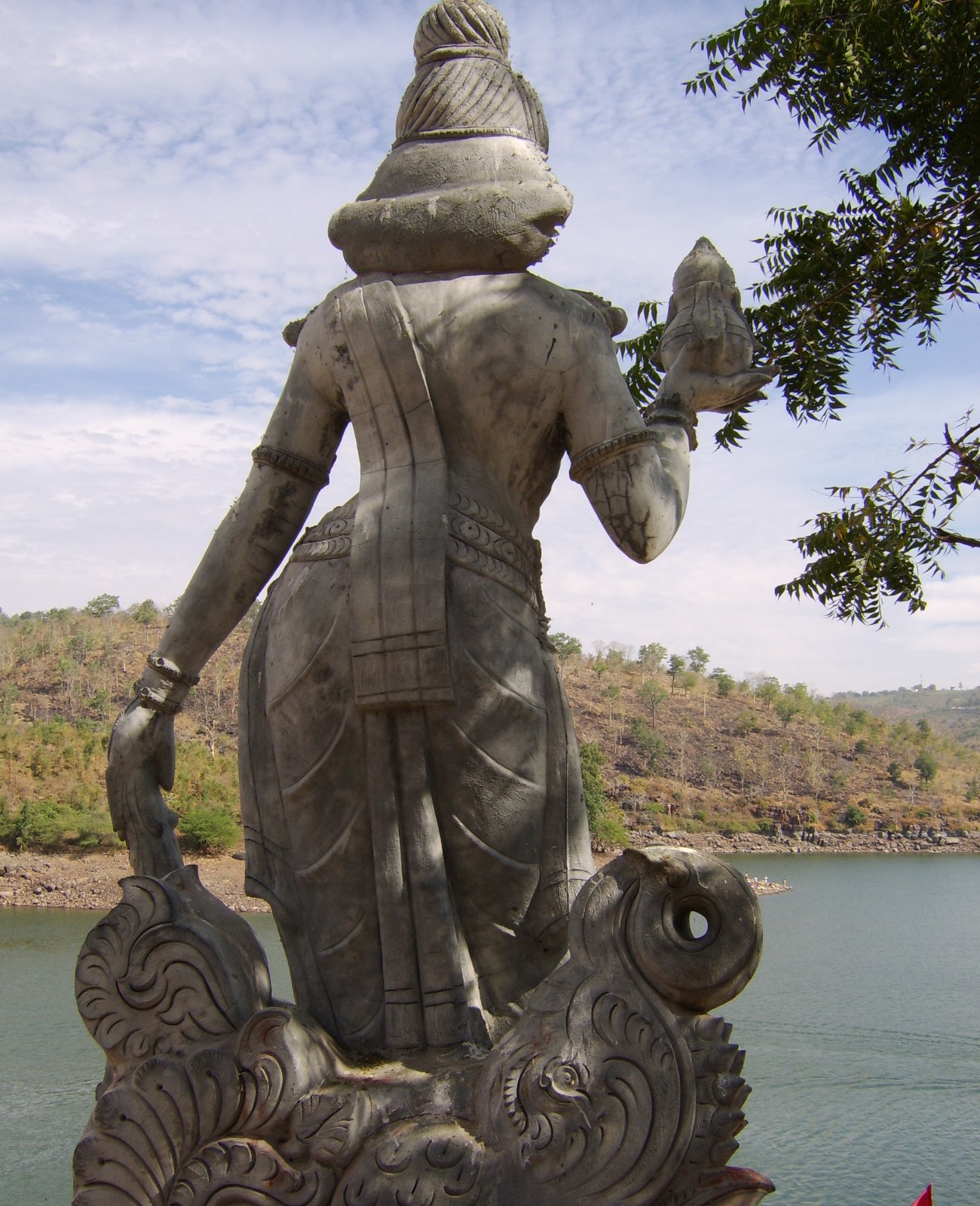 Sakshi Ganapathi
It is 3 Km away from Srisailam, and is assumed that in this temple, Ganapathi keeps regular account of various pilgrims that visit this place.

Hatakeswaram
5 Km away from Srisailam, there is a temple with a stone structure that is dedicated to Sri Hatakeswara Swamy. The temple dates you back in 11-13 Centuries A.D

Phaladhara Panchadhara
4 Km away from Srisailam, it is a narrow valley where pure water's underground streams echo in the musical sounds to the surroundings.
Sikareswaram
8 Km away from the main temple, this is at the Srisailam's highest peak. It is above sea level at the height of 2830 feet. Dedicated to Sri Veera Shikara Swamy, this temple is popular as Sikhareswara Swamy.
Panchamathams
From main temples 2 Km west, there are five mathas. These are SarangadharaMatham, RudrakshaMatham, VibhootiMatham, BheemasankaraMatham, and Ghanta Matham.
During the ancient times, all these mathas are educational institutions and are devoted to higher learning of society's spiritual and intellectual needs.
Patalaganga
Krishna River here is in Patalaganga's form. As per scriptures, people take a bath in the holy Ganga River to wash off their sins. On this, Ganga felt of purifying her and appeared before Lord Shiva feet and get her purified.
The place where pilgrims take a bath in Patalaganga is six hundred steep rock steps down. There is a ropeway by which you can go down as well as come back.
Sangameswar (18 Km), Dindi Reservoir (64 Km), Nagarjunasagar (180 Km), Alampur (207 Km), Mahanandi, and Belum Caves are the other top attractions here.
Plan to visit this holy place to worship at the Shakti Peetham and other nearby holy places. You can reach here by road, train, and air.
If you are coming by air, then the nearest airport is Hyderabad, which is air linked with other places.
The Sacred Darshan of Bhramarambika Devi