Meeting Saddhu Krishnaveni Amma
The Mother of Sage Agastya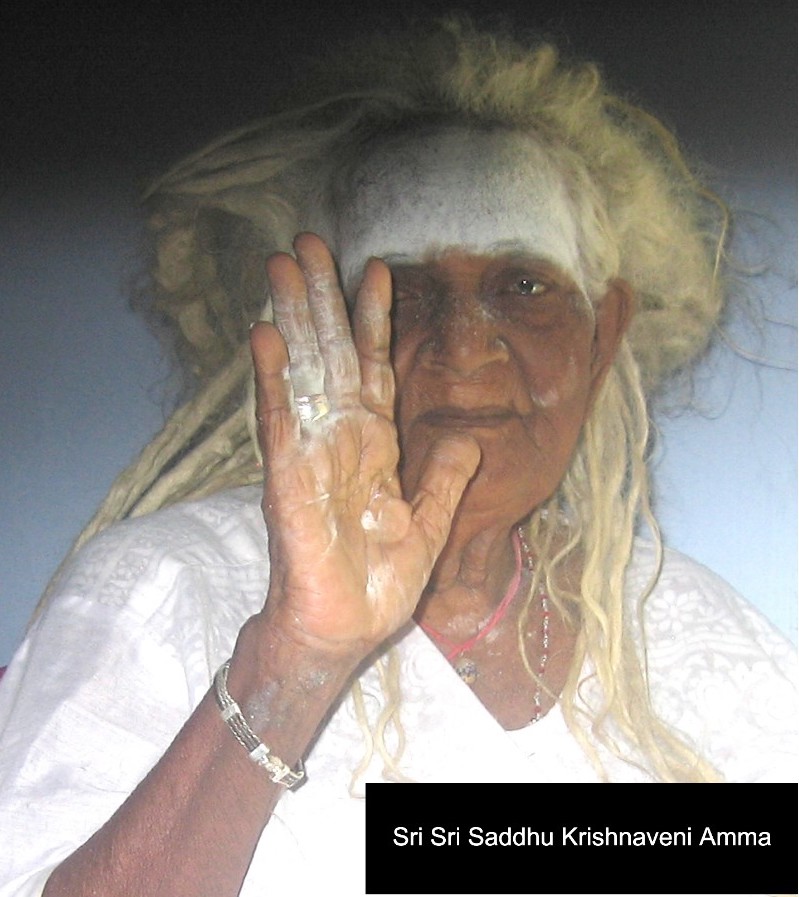 Saddhu Krishnaveni Amma's life is shrouded in mystery. She was brought to the sacred Siddha spot of Papanasam (in Pothigai Hills) when She was around 12 years old and she lived in a cave there until She dropped Her body at 110 years old in 2011.
This cave was supposed to be Sage Pulasthya's, a disciple of Sage Agasthya. She was doing penance alone, protected by siddhas. She still blesses people who come to her shrine.
A very well-known, powerful Siddha Kagapujanda said, "The people here do not know who she is. They ask her to deliver prophecies and disturb her penance." One day, Sadhu Krishnaveni Amma talked with him about this disturbance.
"Swami," she said. "The people here bother me so much. Please, grant me permission to leave this world."
"If you are not here, who will sustain this country?" The Siddha asked. "You did not come here on your own. You were the mother of Sage Agastya in one of your incarnations. That's why he keeps you in such a powerful place. I will fulfill my task soon and leave from here, but you have to stay and save this world. The lamp you light brings the siddhas to this location. Their arrival here brings sandal rain."
Even today, every full moon it rains here and one can smell fresh sandalwood as the blessings od the Siddhas.
I was fortunate enough to meet Krishnaveni Amma twice. My first meeting with Her was back in 2009, and I, along with two pilgrimage companions, set out to explore Papanasam. This sacred place is known as Kalyana Theertham because it is closely associated with Sage Agastya. It's said that during the wedding of Shiva and Parvati, the world became imbalanced, and Shiva sent Sage Agastya to South India to bring balance. Near the sacred waterfalls, Sage Agastya had the Divine Vision of Shiva and Parvati's wedding.
We had heard that Amma's door to her cave would be shut and closed off to visitors a lot, so nobody ever had any guarantee that they could get Her darshan. When we arrived, sure enough, Her door was closed. We left it up to the Divine and moved along to enjoy the Kodi Lingeshwar temple near Her cave and then bathed in the sacred falls. After spending some time there, we moved back to Her cave and were delighted to hear that She was now up and Her door was open. We did not want to interfere with Her duties, so we patiently waited outside Her door to see if She would grant us darshan. Sure enough, after a few minutes, She appeared in the doorway and gave us blessings and darshan. She gave each of us some vibhuti, and we sat silently for a bit, just enjoying Her sacred presence, and we took our leave shortly after that.
The second time I took Her darshan was during a pilgrimage in 2011 during the sacred Maha-Shivaratri time vortex. In fact, we decided to spend the night of Maha-Shivaratri at Papanasam since it's such a powerful Siddha center. This time we also got to enter her cave and perform Shiva abhishekam to her Shiva Linga. We were also blessed to go into the cave above Her cave, a very small but powerful shrine room ideal for mediation.
It was apparent that Amma was having a hard time staying in the body, and I was not sure if She would attain Samadhi and drop her body on Shivaratri itself. That night we all stayed up chanting mantras, meditating, and performing yagnas. After the sun came out, we did our last puja and took our leave. The following month on Chitra Purnima, Amma attained Samadhi and dropped Her body. She was cremated, and Her presence is still felt very strongly by all who visit.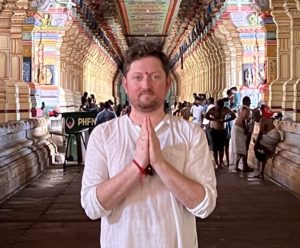 -Ananda
Co-Founder Behind Every Temple
Krishnaveni Amma Image Gallery
Below is a video featuring Saddhu Krishnaveni Amma.